For any avid lover of classic 1950's-1960's monster movies, there is nothing like spending an afternoon watching creatures accidentally exposed to high levels of radiation take on the local military, cause billions in property damage, and beat the crap out of each other.
I've watched giant ants (Them) take on tanks, a spider (Tarantula) attempt to beat the Air Force, and a massive gelatinous flesh eating mass (The Blob) consume a town, but nothing compares to the epic battle between one majorly annoyed lizard and a cranky gorilla.
When my father and I sat down to watch the original King Kong vs Godzilla film (1962) where these foes first duked it out, it hooked me forever into the Monsterverse.
And on March 31st, these two titans battle once again and I'm as excited as Thor was when he saw Hulk on Sakaar.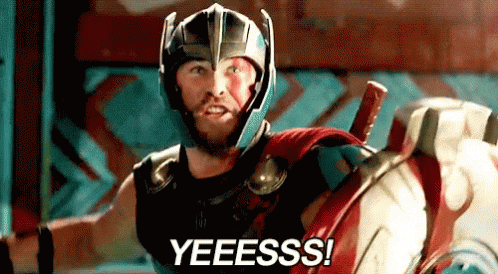 Originally getting this epic battle to the big screen turned out to be no easy journey since the initial story for the 1964 film started with Kong battling…Frankenstein.
Yes, you read that correctly. Kong vs. Frankenstein.
I assume they meant Frankenstein's monster (still not big enough) as Dr. Frankenstein would have been really small and pretty much no match for Kong.
Back to how Kong and Godzilla had their first meet cute.
Through a series of events between directors, producers, and movie studios, the powers that be finally ended up with King Kong's creator's Merian C. Cooper's favorite primate battling it out with Japan's new kid on the block, who'd debuted in 1954.
Not only did the world first meet our favorite radioactive reptile in 1954, but the world of suitmation was introduced.
Instead of using stop-action special effects, the creators decided a more cost effective method would be putting someone in a lizard (or whatever monster) suit and stomp around on miniature sets.
The decision proved to be a winning choice as audiences loved the movement and interaction the characters had with each other and their surroundings as shown in the original trailer:
In fact, in King Kong vs Godzilla, suit actors Shoichi Hirose (King Kong) and Hauro Nakahima (Godzilla) were given free rein to choreograph their own moves and fight scenes as they based on the popular wrestling style of the time.
The epic battle between these two iconic creatures thrilled audiences around the world and brought in more than $10 million at the box offices.
Pretty good for a film with a $620,000 budget with $220,000 of that going to RKO Studios for the rights to use Kong in the film.
(Word to note, the natives who live on Skull Island, were actors with brown face and presented as 'savages' so when you watch the original, know the depiction of the local residents are truly and stereotypically, absurd and racist.)
Of all the movies, the 1964 classic remains the most popular of all the thirty-five Godzilla movies and eleven of the Kong films.
But will it keep its top spot?
With the Godzilla vs. King Kong movie's impending arrival, this will be their thirty-sixth and twelfth films, respectively.
Long gone is the shoestring budget its predecessor worked with as as this remake project had $200 million to perform movie magic.
There will be no suitmation.
No miniature version of the village on Skull Island attacked by a giant octopus.
There will be far more destruction.
Massive explosions. Plenty of CGI.
Probably an F-bomb and not sunshine words.
And no campy dialogue…okay, there probably will be because it's a Monsterverse film.
In fact, I'm pretty sure it's required.
Still, considering Godzilla (2014), King Kong: Skull Island (2017), and Godzilla: King of the Monsters (2019), questions remain:
At the end of the last film, why are the titans (monsters) converging on Skull Island?
Will Mothra's egg hatch and bring us a new player to the game?
Who's the real villain? Kong? Godzilla?
Someone/something else?
And most of all–who will come out victorious in the end?
In both the Japanese and American versions of the original film, the implied winner King Kong put up a fierce fight, but Godzilla had not necessarily been eliminated from future battles.
Now, almost sixty years later, these two match up once again and what a fight it will be.
No matter how this plays out, even if it's terrible, Warner Brothers is gonna get my money because I'm gonna hang out with my dad and watch the latest chapter from the epic Monsterverse.
What about you?
Where are you going to watch the film?
Are you Team Kong or Team Godzilla?
Let us know in the comments below.
Godzilla vs Kong arrives in theaters and on HBO Max streaming March 31st.